Your passion: cycling, not cleaning!
Faster to clean

Sratch resistant

Sustainable
Nano coating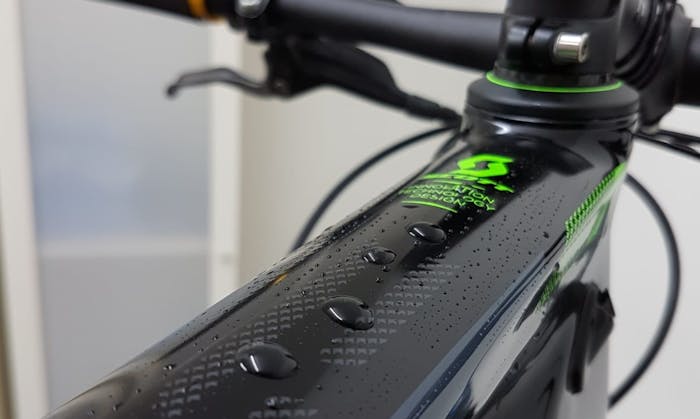 The coating simplifies cleaning your bicycle after a ride. Treating your bicycle with our coating prevents dirt and moisture to attach easily. The effect: the bicycle can be cleaned faster and easier! The coating will function as an extra protective layer for the paint on new bicycles and renews the original paint colour for bicycles that have been in use for some time. The coating also ensures that small existing scratches will become less visible. The coating will fill the scratches up and will protect them against rust.
The coating can be used on all bicycles whether they are made of aluminium or carbon with glossy or matte lacquer. It doesn't matter!
Read more
What other cyclists say
Very statisfied
R. Mol
The dirt really falls off.
I am very satisfied with the product and the service.
100 times easier
Super happy with the coating on my mountain bike.
Brought my bike 3 months ago for a treatment and the guys were very kind. My bike had some scratches and they were all gone and the color of the bike came back completely! Cleaning the bike is a 100 times easier!
Nice gift!
M. Meurs
A few weeks ago I had my mountain bike treated with Rapid Clean Coating. The result was beautiful! Small damages and scratches were gone and the bicycle looks like new again.
Cleaning is now much easier, the dirt flies off, so I use considerably less water.
Recently i gave a treatment as a gift, a beautiful and original gift.
Thanks guys!
As good as new!
E. Hogebirk
The Rapid Clean coating does its job: dirt does not adhere and rinses away easily with a little water. My bike looks like new again with the beautiful matte coating. I'm very happy with the coating!
Spotless!
J. van der Steen
My Trek Mountainbike is treated with Rapid Clean Coating, cycled through the dunes with heavy rain and mud a few weeks ago, sprayed the mountain bike back home with the water hose and it is spotlessly clean again. A good result through the right treatment with your product. Thanks for the advice!